The worse thing is... I don't know where to run.
I reached the point of my life where I just feel so hopeless and empty. I miss the times before when I felt that there was good everywhere and there were a lot of things to smile and laugh about. I feel like I lost all the things that made me want to get up every morning.
Current Mood:

lonely
---
Select the month you were born in:
1 (Jan) - I stabbed
2 (Feb) - I needed
3 (Mar) - I ran naked with
4 (Apr) - I killed
5 (May) - I jumped
6 (June)- I smoked with
7 (July) - I ran shirtless with
8 (Aug) - I banged
9 (Sept) - I shot
10 (Oct) - I robbed
11 (Nov) -I slapped
12 (Dec) - I cuddled with
Pick the day (number) you were born on:
01 - the trojan man
02 - a homeless guy
03 -a homo
04 - A mop**
05 - a dog
06 - a rock star
07 - Paris Hilton
08 - my lover
09 - a toothbrush
10 - my boyfriend
11 - a glass of milk
12 - a teletubby
13 - the cookie monster
14 - a drunk
15 - a crack head
16 - a cat
17 - a bum
18 - a whore
19 - a hobo
20 - a stripper
21 - a porn star
22 - Barney the dinosaur
23 - the kool-aid man
24 - an easter egg
25 - my ex girlfriend
26 - a hottie
27 - a bag of weed
28 - a french fry
29 - your mom
30 - a bowl of cereal
31 - jezzy the snowman
Pick the color of shirt you are wearing:
White - because that bitch stole my taco
Black - because I love marijuana
Pink - because I'm good in bed
Red - because I have AMAZING boobs
brown- because I still love him
Polka Dots - because I hate my life
Purple - because I'm gay
Grey - because I'm sexy like that
Other - because I have double D's
Green - because I love to snort cocaine.
Orange - because I smoke crack
Turquoise - because I have a noodle in my nose
blue - because im the sexiest bitch alive
Tye dye- because Im a fucking scuba diver
none- because i have a killer six pack
Yebah HSBC grey uniform! Got this from my friend's mulitply site :p No sleep for me tonight :(
Current Mood:

exhausted
Yes, I joined the bandwagon.
Current Mood:

busy
Sometimes in our relentless efforts to find the person we love, we fail to recognize and appreciate the people who love us. We miss out on so many beautiful things simply because we allow ourselves to be enslaved by our own selfish concerns. Go for the man of deeds and not for the man of words, for you will find rewarding happiness not with the man you love but the man whom loves you more.
The best lovers are those who are capable of loving from a distance, far enough to allow the person to grow, but never too far to feel the love deep within your being. To let go of someone doesn't mean you have to stop loving, it only means that you allow that person to find his own happiness without expecting him to come back. Letting go is not just setting the other person free but it is also setting yourself free from all bitterness, hatred and anger that you keep in your heart.
Do not let the bitterness rare away your strength and weaken your faith, and never allow pain to dishearten you, but rather let you grow with wisdom in veering it. You may find peace in just loving someone from a distance not expecting anything in return. But be careful, for this can sustain life but can never give enough room for us to grow. We can all survive with just beautiful memories of the past but real peace and happiness comes only with open acceptance of what reality is today.
There comes a time in our lives when we chance upon someone so nice and beautiful and we just find ourselves getting so intensely attracted to that person. This feeling soon becomes a part of our everyday lives and eventually consumes our thoughts and actions.
The sad part of it comes when we begin to realize that this person feels nothing more for us than just friendship… Don't be so bitter about it! For it may be a kind of friendship that may last for a lifetime. We may start our desperate attempt to get noticed.. to get closer.. but in the end our efforts may still get unrewarded and we'd end up being sorry for ourselves.
You don't have to forget someone you love. What you need to learn is how to accept the verdict of reality without being sorry for yourself. Believe me, you would be better off giving that dedication and love to someone more deserving. Don't let your heart run your life, be sensible, and let your mind speak for itself. Listen not only to your feelings but to reason as well.
Always remember that if you lose someone today, it means that someone better is coming tomorrow: If you lose love that doesn't mean that you failed in love. Cry, if you have to, but make sure that the tears wash away the hurt and the bitterness that the past has left with you. Let go yesterday and love will find its way back to you. And when it does, pray that it may be the love that will stay and last for a lifetime.
Taken From Tin's Multiply
This may help those who do not know the answer to the question on who to prefer: the one who loves you or the one you love… this is also for those who are waiting for the person they love to love them back openly, to those who are looking for love and those who know that their love is not meant to be…
Current Mood:

sore
Got the topic from Sarah's multiply. [Was about to sleep already but then I'm still waiting for my phone to finish sending something]
5 Craziest Things I've Ever Done:
Had my hair curled in a demo seat (for a particular brand of hair iron) outside Watsons in SM North.
Got away with an MMDA ticket by telling the police that I'll kiss him instead. LOL!!! - Just so everyone knows, I DIDN'T DO IT ACTUALLY!

Tryouts for aque party facilitator: Acted as a Sisa facilitator in front of a room filled with Xavierian students ("Krispin? Basilio???")
Because I couldn't reverse our old Volkswagon beetle (and I was already in a hurry to leave), I decided to put down the hand break and push the car down our garage ramp and off to the road. When the car was already accelerating backwards, I ran behind it thinking that I could stop it. HAHAHAHAHA! Feeling ko ako si Superman! (Deym Char! Ano yun? Toy?!)

Jumped in a pool without any extra clothes to wear afterwards. That time I so envied my friends who were swimming and I just jumped in not knowing what undies I'd be using after the swim.
10 Things I've always wanted to do but never had the guts to do:
Kill a cockroach without fear.
Go snorkling!
Tell the people I'm seriously angry at how much I hate them for what they're doing.
Apply in Adidas :p
Study culinary arts.
Try out an exotic haircut.
Speak fluent Chinese.
Learn and be very very good at figure skating.
Buy my immersion family a carabao.
Approach LA Tenorio and Rich Alvarez for an autograph and a picture.
Gusto ko maging complete. Centrum complete from A to Zinc. :p
Current Mood:

crazy

Current Music:

Sweet Escape

Was blog hopping and when I opened a certain random page, this song just played. :)



Just Say The Word - Josh Kelley

I'm holdin on
To your picture on my telephone
And I know that I should let you go
But it's hard to break away
I ask around
And I wonder what you're doin now
But I hear that you've been going out
A little more these days
Well I can't lie that I think from time to time how you're doin
Well don't hang up, cause what I really meant to say is

When everything is wrong
Nothings goin right
Just know that I'm not hard to find
So just say the word
And I'll race to you tonight
And I'll be right there by your side-holdin on

Remember when
We were further than you/ve ever been
And I think about it now and then
It takes me to that place
Oh and I pretend
That I'm better than I've ever been
Well at least that's what I tell my friends
Cause I can't show my face
Well I can't lie that I think from time to time how you're doin
Well don't hang up
Cause what I really meant to say

When everything is wrong
Nothings goin right
Just know that I'm not hard to find
So just say the word
And I'll race to you tonight
And I'll be right there by your side

It's hard enough to believe in something more
Than just pretend
Just because we both know it's over
We can still be friends

When everything is wrong
Nothings goin right
Just know that I'm not hard to find
So just say the word
And I'll race to you tonight
And I'll be right there by your side
I can be right there by your side--Oh
I can be right there by your side
*Nicholas d' Agosto high ♥*
Current Mood:

chipper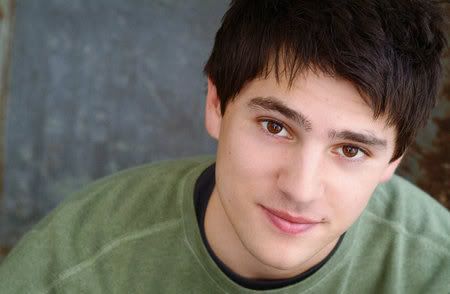 Nicholas D'Agosto ♥
My golleh! If I'd end up with a guy like this... *haaaaaayyyyy* He's 6 feet tall and has nice eyes.... Never mind being heartbroken nowwww. May he float in my dreams... Imbis na gabi gabi nalang nananaginip akong nagreremit ako!
Went home early today because it's a holiday in NY. Tomorrow, I'll be triple dead. That's what happens when holidays come... we enjoy the day itself but dread the next few days to come. Oh well, that's the way it is. So anyway, went home early today to catch Heroes in C/S, and can I just say..... *siggggggghhhhh* na ang gwapo gwapo ni Nick.
Current Mood:

giggly
A PSP2!!! Santa!!!Iwantthis!!!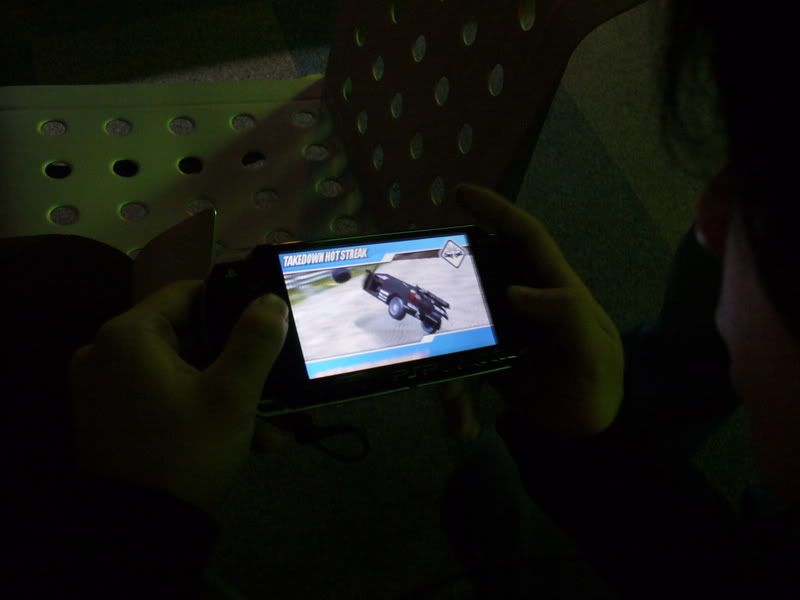 Katas ng Canon kay Mike! haha!
I so love the game Road Rage despite the fact that I sucked big time (I caused more damage to myself than to my targets). Got dizzy with my own driving and couldn't chase my enemies because I got stuck in a small corner twice and couldn't get out. We were all laughing because I kept on going to the wrong direction and could hardly reverse. Even in games I'm an unreliable source of direction.
Speaking of direction, despite my poor navigational skills, we were able to find our way to Rockwell this afternoon [after nearly causing accidents in the area and moving towards a dead end] My driving misadventures continue. Had lunch and spent the afternoon with Mic, Elaine, Mike, Borgy, Kaye and Jic. Ate in this Jap Resto (I can't remember the name), played in Powerstation and Billiards after that :) The good times! Next time, bowling, ice skating and wall climbing naman :) Thanks Borgy for the free lunch and thanks Borgy and Mic for the free billiard fees!!! :D
And to continue,
The Driving Misadventures of Wonder Char!!!
On the way home...
After bringing Borgy to his dinner party, Char, with Kaye, was driving along Corinthian Hills towards White Plains.
Char:
HALA HUMP!!!!
Good break. Was able to slow down in time so that the car won't flyUpon seeing a big hole on the road near ahead
Char:
SHEEEETTTT!!!
Too late.
BAGAG!Kaye:
(((Screams))) Ano ka ba parang mamamatay ako dito!!!
Stoplight turns red
Char:
Uy Kaye! Ang ganda ng Christmas lights! Picture-an natin!
Kaye gets Char's camera in her bag and Char fixes it to a different photo style to capture the lights well and while doing so...
Char:
Sabihin mo sakin kung green na ah?
Kaye:
Green na! Joke!
Char continues preparing her camera
Kaye:
Green na!
Char hands the camera to Kaye
Char:
O dali! Picture-an mo
Kaye:
Bagalan mo lang! (While trying to take a picture of the Christmas lights on the street)
Kaye:
BAGALAN MO HINDI KO MAKUNAN MABUTI!
Char:
(Laughing because she couldn't slow down since she was causing irritation to the cars behind her already)
And the pictures taken............
Take 1:
Take 2: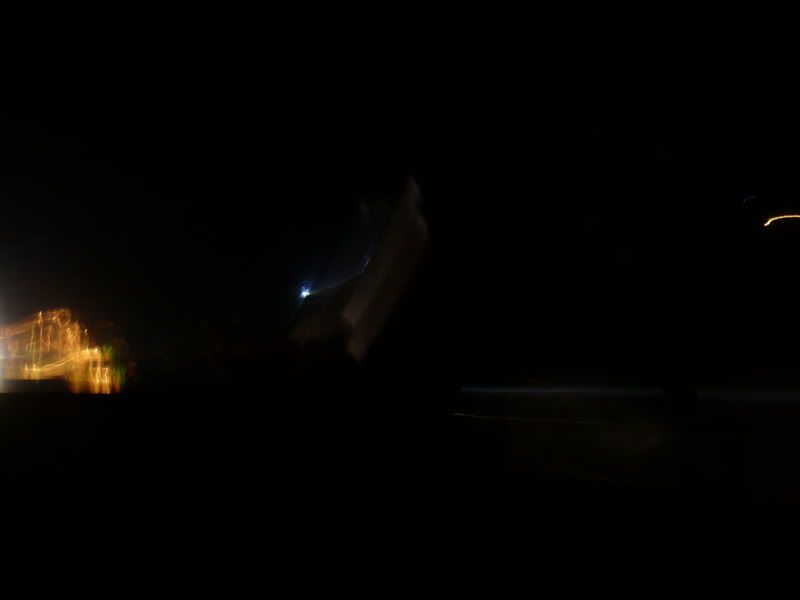 LOL!!! Goodluck nalang haha!
---
Current Mood:

BLOATED!Eating too much sweets

Current Music:

It's like that - Jermaine Dupri feat Mariah
ot-to-be type) tend to understand things that most people don't. For instance, given a situation wherein they (the heartbreakers) themselves become heartbroken, blaming the other becomes so seldom (close to never) because they understand the other side. They understand things like, one can never force one's self to like somebody that he/she doesn't like. They understand distance -- it's value not only to the heartbroken but to the heartbreaker as well. To the heartbroken, it's a tool to move on while to the heartbreaker, it's means making things clear or illustrating a subliminal message of his/her choices. Bitterness is somehow lost in the heartbreaker's vocabulary because they know that it is pointless. They just see things largely from the opposite perspective which is why these people can rarely be seen expressing their pain and difficulties especially towards the person responsible for their crushed feelings. I guess it too is complicatedly difficult for these people because their sadness has moved over to a different level of difficulty considering that they can hardly express their emotions to free themselves from unhappy things. Just a thought. Karma siguro :p

---
Anyway, someone asked me this before, I'm kinda interested in other people's responses. :p Just leave comments for your answers (if you feel like it):

Say you're walking down a street and then you see a bush filled with very yummy-looking strawberries. You decided to get. How many did you get?

Then suddenly, the owner of that bush came out of the house and got really angry because you've been taking from the bush. What would you do?

"Psychological" meanings/ life equivalents of your answers on the next post. (Para walang cheating)
I was talking to a colleague of mine earlier this evening about my current romantic frustrations. It was quite a lot although I eventually realized one thing: that heartbreakers (whether natural/intentional or the I-don't-mean-to-hurt-you-but-that's-just-g
Current Mood:

lost
Earlier this afternoon, went out with Kaye, Ramon and Ditse. We headed to Trinoma to eat mirienda, went up to the top floor to go and eat at
Krispy Kreme
. Too bad though, there were no more seats left for newcomers like us so we ended up loitering outside with our donuts and coffee cups at hand. Our view? Four different couples there with different situations.
Couple #1:
Snugglers. Once in a while they just talk, slap one another in the arms, then next second, they hug each other tightly and make out. They were actually the ones who got most of our attention. Kaye even suggested that we go near them and then she'll go: "Char Char dito tayo, para may action sa background!"
Couple #2:
Sad couple. According to Kaye, the girl was pregnant and well, she was crying. We were assuming that they were breaking up but eventually concluded that they'll still be friends.
Couples 3 and 4:
They weren't very interesting.
Yes, we were bored, and we had nothing else to watch. Thanks couples for being our source of entertainment.
---
Finally, I was able to buy my long-admired pair of Chucks.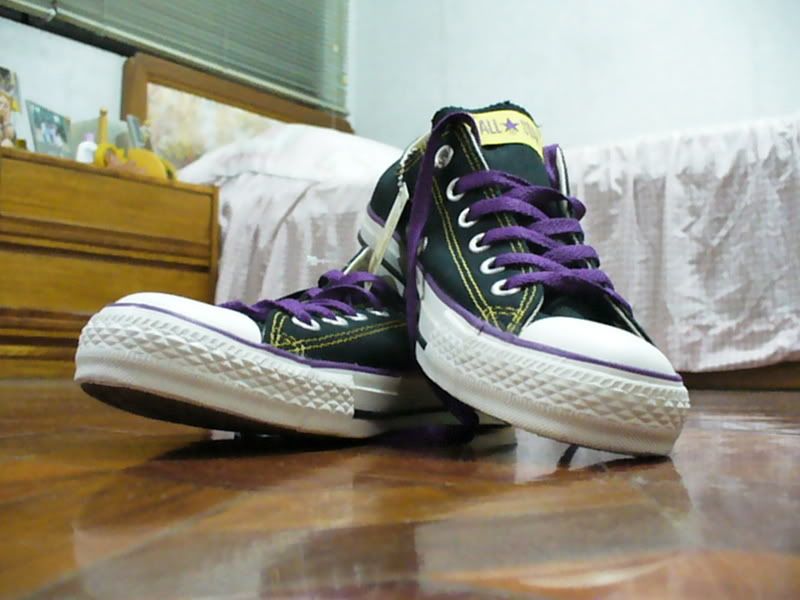 So all my hardwork and OT pay goes to that.
After that, we headed off to Timezone. Onga pala Kaye, may utang pa ko sa inyo. Bayad ko kayo promise, siguro sa 10 pagnagkita tayo. There was supposed to be a showdown between Ramon and me (paunahan mafail), but eventually, people wouldn't leave the DDR machine. Screamed, played and had fun.
Kaye's goodies from the gambling game. ;)
---
My dear car was baptized. She's now named,
Ruby
. Thanks, to Ninang Kaye. :)
What do 4 people without love lives do when they are bored? They watch other couples do PDA!
Current Mood:

grateful